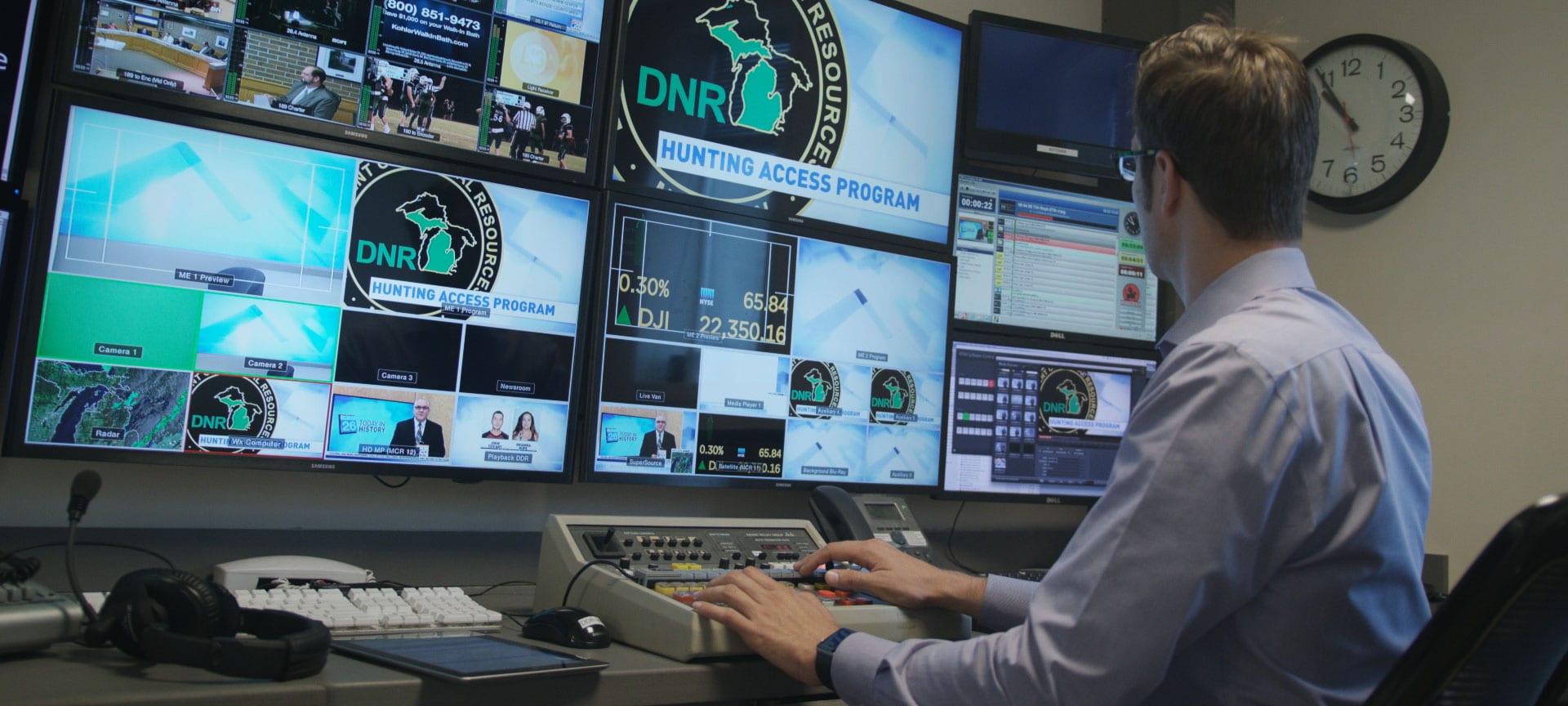 As 2019 approaches, more and more TV viewers are cancelling their cable and satellite subscriptions and turning to over-the-air broadcasters as their source for traditional television. Meanwhile, while access to 24-hour news channels is one of the primary reasons some viewers chose not to cut the cord, many viewers say they're tired of the opinion-based programming seen on those channels.
A new startup hopes to both fill the gap in 24-hour news coverage that cord-cutters face and bring back a focus on headlines – rather than opinion-based programming — to 24-hour news. It's called NewsNet, and it's the brainchild of 29-year-old broadcast entrepreneur Eric Wotila, who has been operating LPTV stations since 2011, but has been involved in broadcasting since he was a teenager.
Starting Early
Wotila has had an interest in broadcasting for as long as he can remember. Even in his childhood, he and his sister would run around the neighborhood with their parents' VHS camcorder, recording skits and videos that they would show off to the neighbors.
"I remember creating the brand 'WEKW' – a fictional TV station we made up which stood for 'Eric and Kelsey Wotila,' when I was somewhere around 10 years old, maybe younger," Wotila explained, "I'm not sure what drew me to the camera, but I was definitely drawn to it early, and have kept that interest all my life."
By the time he was 13, Wotila was volunteering with Cadillac Community Television – the public-access TV station his home town of Cadillac, Michigan. He spent his free time running a camera for the station's productions, including concerts and sports games at the local schools.
At 15, he obtained an internship with WFQX, the local FOX affiliate, which had recently launched a 10pm newscast. As a small-market station with a small news department, the station welcomed the extra manpower, and Wotila said that opportunity was instrumental to building his career.
"The running joke at the station was, 'Go send the intern to cover the fire,'" he explained, "The news team at FOX 33 was so small at the time that they'd send me on assignments that a more traditional station would send a much more experienced crew to. There were even nights when I'd run the CG during the News at 10 — and every part of the experience carried over to what I do now."
The First Station
What Wotila does now is run two LPTV stations. He built WMNN – MI News 26 – in 2011, and purchased a second station last year. Originally, his idea was to operate "public access in the private sector," producing content like concerts and sports games, but with a higher production value than that of CCTV. Long-format news programming would air in the evening, with slower dayparts filled with a "news-esque community
bulletin board," in the entrepreneur's words.
"Our original idea was to take the PowerPoint slideshow consisting of community events and information that was seen on CCTV for much of each day at the time and improve the presentation by bringing in an anchor to read the announcements, and present it like a newscast," Wotila explained, "We didn't originally plan on focusing on the day's hard news headlines, but we quickly started to get a demand for up-to-the minute headlines from our viewers, and WMNN sort of morphed into a more traditional, 24-hour news channel from there."
After WMNN was named LPTV Station of the Year by the Advanced Television Broadcasting Alliance in 2015, Wotila drew the attention of Mike Flood, a radio broadcaster in Nebraska who was in the process of launching a group of LPTV stations with a very similar mission to that of WMNN.
"Mike came out to tour MI News 26, looking around our station and pointing at things like our news set and saying, 'I want that," Wotila said with a laugh, "At the end of the tour, he made me an offer I couldn't refuse and I found myself driving to Nebraska about 2 weeks later."
Wotila spent several months traveling between Michigan and Nebraska as he helped Flood to build News Channel Nebraska, a cluster of LPTV stations providing 24-hour local news and sports coverage to much of eastern Nebraska. That's when he had the idea that would evolve into NewsNet, a 24-hour news diginet that will launch in January.
"We built NCN with a centralcasting model," Wotila explained, "Staff at a single studio in Norfolk produced separate content for each of several LPTV stations, with some content airing on multiple stations and other segments airing in only one community. While working at NCN, I realized we could create a similar model at MI News 26, and produce both local news and a national broadcast that could serve the many LPTV stations without their own news departments."
Going National
The idea of producing a national broadcast led to the creation of NewsNet, a 24/7 national news channel tailored toward LPTV stations which will be launching January 1. While the idea of producing a national broadcast was simple at its core, it took several years of planning and coordination to bring that idea to fruition.
"We had the studio in place, but there were a lot of logistical concerns we had to deal with while developing NewsNet," Wotila said, "First and foremost, we had to determine if there was an actual interest in a new 24-hour news channel. Most of the time we spent between coming up with the idea and setting a launch date was put into research – do viewers want a new choice for news? Are stations interested in carrying it on one of their subchannels? Are advertisers interested in such a network? We found the answers to all three questions were a resounding 'yes,' and finally decided to move full-steam ahead with the project."
Even before the decision to move ahead was confirmed, Wotila began taking steps toward the launch of NewsNet. The first of those steps was hiring additional staff who would ultimately handle the production of NewsNet's broadcasts.
"I felt that I was going to be part of something new and exciting," said Remington Hernandez, the first employee who was hired with the idea of ultimately working for NewsNet, "This was something that had never really been tried before on broadcast television. I looked at the media environment throughout my life, and I've seen it become more polarized. It moved away from news and more toward talk and opinion, and I wanted to counter that."
Hernandez begin working for MI News 26 in April 2017, and has produced content for the station's local newscasts since then. In recent months, he began leading the team which will be seen on NewsNet when it launches in January.
"At first, I started as a midday anchor and reporter, going out daily and covering stories throughout northern Michigan," explained Hernandez, "but in April of this year, we made some changes to the format on MI News 26 in preparation for the launch of NewsNet. With that, we've learned how to better tailor stories to fit the format, and we've had some time to learn what works and what doesn't. All this practice on MI News 26 will really help us create a better product in the end."
Preparing for Launch
By now, most of the staff which will operate NewsNet once it launches has been hired. The Master Control Room at WMNN's existing studio in Michigan is being upgraded to facilitate the network, and additional equipment is being tested and purchased to handle distribution of the signal to affiliates. Practice broadcasts are already underway, getting staff comfortable with NewsNet's format before the network launches.
The last piece of the puzzle is expanding the list of affiliates. Right now, the network has signed agreements with affiliates in Florida, Missouri, Kansas, Virginia, New York and Louisiana, and is waiting for countersigned agreements from stations in 6 other states. While those agreements collectively put them close to their goal of reaching 10 million households at launch, they're still actively seeking additional stations interested in carrying their news content.
"We were thrilled by the response to NewsNet during an early affiliation push at NAB this year, and we've seen even stronger interest since we set a launch date earlier this month, said Wotila, "That said, we're still seeking affiliates as actively as ever so that we can ensure the long-term success of the network."
While they're focused on recruiting affiliates and finalizing all the preparations for NewsNet's launch, the startup's entire team is looking forward to what the future holds.
"I just can't wait until the beginning of the year," Hernandez said, "I'm really eager to serve the markets that carry us at launch, and those who will in the future. I hope that NewsNet will become widely known as a place where people can tune in and get just the news – without opinion."
————
Stations interested in becoming NewsNet affiliates can email affiliates@yournewsnet.com to learn more about carrying the diginet on their subchannels