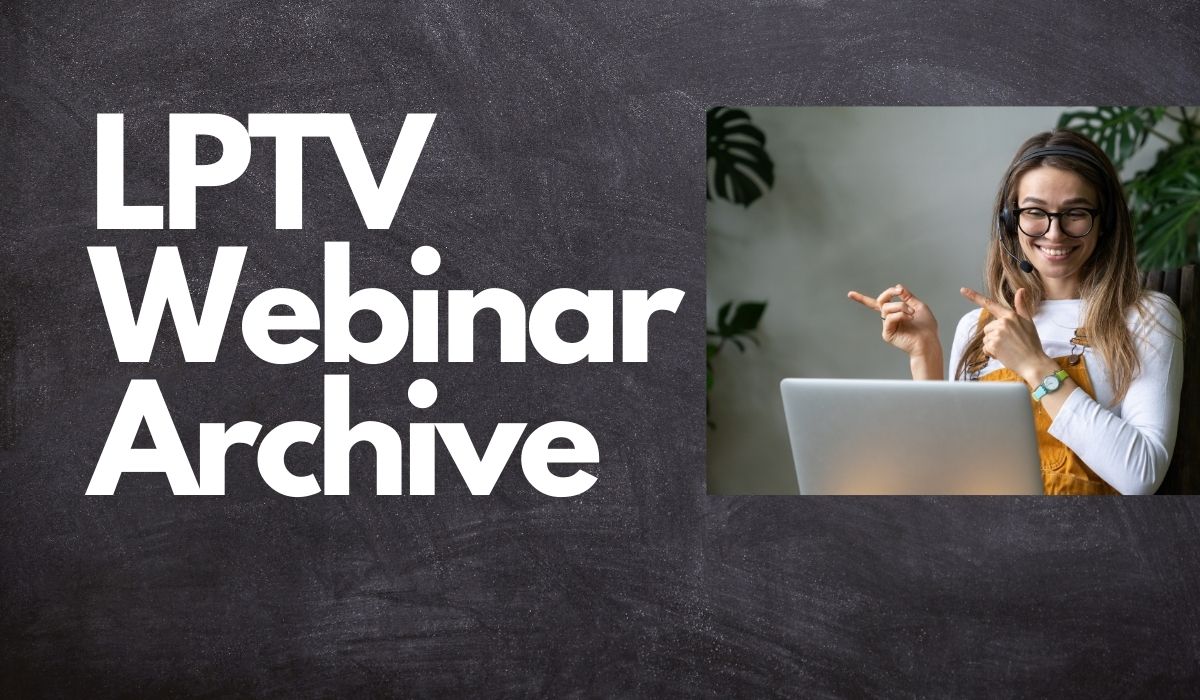 WEDNESDAY WEBINAR Featuring Attorney Ari Meltzer
February 10, 2023
With the latest information from today's meeting with the FCC, today's LPTV Webinar will feature Ari Meltzer, Communications, Technology & Litigation Attorney with Wiley Rein LLP. Along with ATBA Executive Director Lee Miller, they will bring you up-to-date on the latest with FCC and the LPTV Industry.
---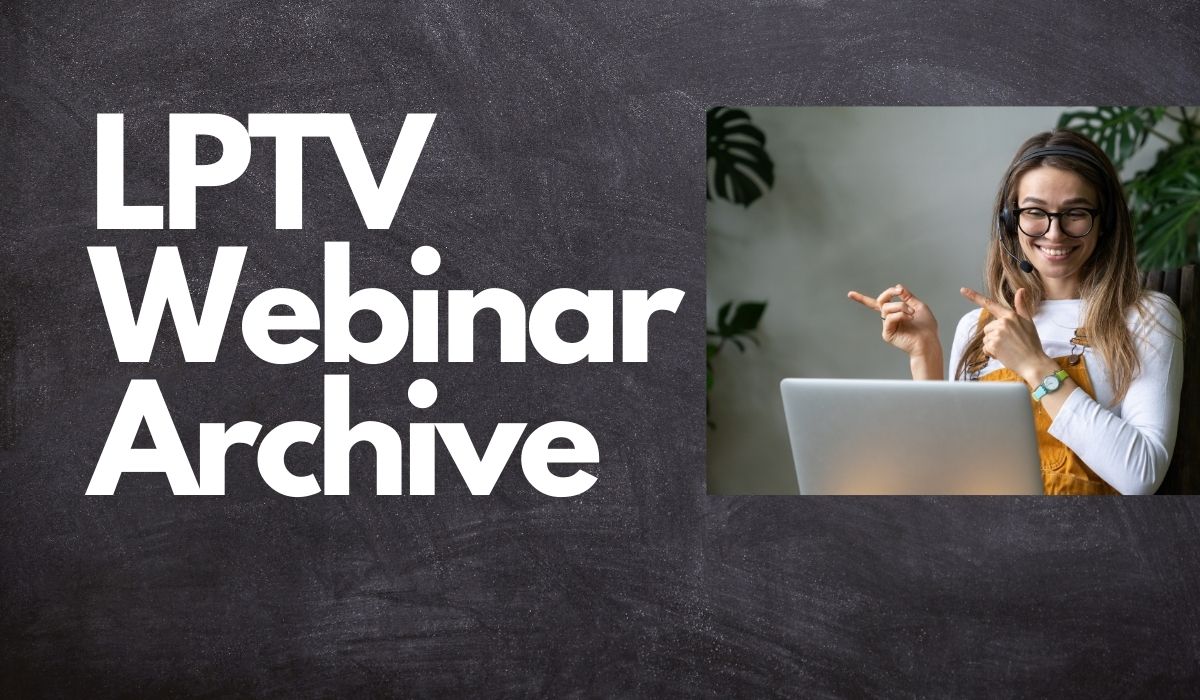 Wednesday Webinar Features Broadcast Attorney Ari Meltzer & ARK CEO Josh Weiss
March 22, 2022
---
ARK Multicasting Provides Full Demonstration of ATSC 3.0 Television Standard and Business Model at NRB Convention 
March 16, 2022 
ARK Multicasting, a low power television broadcaster and nationwide leader in Broadcast Internet technology, last week gave the broadcast industry a sneak peek at what they are accomplishing together with Hewlett Packard Enterprise ("HPE"), and Trinity Broadcasting Network ("TBN"). The event took place at the National Religious Broadcasters ("NRB") convention in Nashville where Christian content creators, delivery platforms, and broadcasters gathered to see the enormous opportunity they have with ARK and the Broadcast Internet data delivery solution and new revenue streams available without sacrificing ministry efforts.
Technology being demonstrated included the new ATSC 3.0 television standard, orchestration and edge-to-cloud infrastructure solutions provided by HPE, and the current deployment build of ARK with their customer, TBN. ARK announced their initial deployment of 10 Internet Broadcasting facilities in late 2021. The complete buildout will include some 300 stations covering 100 million people in the United States.
Ark Multicasting Co-Founder and CEO, Josh Weiss, demonstrated the power of their multicasting solution by highlighting how Verizon typically transits 6.5 exabytes across their network in a given month. "ARK can transfer 45 exabytes in that same month – in just one city," Weiss said. "There is no other solution as efficient, effective, or as elegant as what we are bringing to market."
On hand for the presentation was Madeleine Noland, president of the Advanced Television Standards Committee, Inc, the organization responsible for the new television standard.
---
ATBA Wednesday Webinar with Ark Multicasting to Blaze trails for Christian TV 
 March 09, 2022
Come get a sneak peak at what they are accomplishing with Trinity Broadcasting Network, and to show you how they are doing it with the solutions provided by Hewlett Packard Enterprise ("HPE"). The next generation of television is here. It is called ATSC 3.0 or NextGenTV and is currently being deployed throughout the United States. Christian TV broadcasters have an enormous opportunity for new datacasting revenue streams without sacrificing existing ministry efforts. In this reception, you will have the opportunity to meet and mingle with the Christian Television community and hear directly from ARK, TBN, and HPE as they walk you through a live demonstration of the possible.
---
ATBA Wednesday Webinar with ATSC's Madeleine Noland
November, 17, 2021
Madeleine Noland, President of ATSC, discusses the comparison and progression of technology between ATSC 1.0 and ATSC 3.0. She also goes over figures regarding the deployment of ATSC 3.0 across the nation as well as around the world.
---
ATBA Webinar with Broadcast Attorney Ari Meltzer
November 17, 2021
Broadcast Attorney, Ari Meltzer is a partner with Wiley Rein LLP, which has the largest Telecommunications and Technology practice in the country. Meltzer's background is in Broadcast Journalism and was a TV News Produces for local television, Tribune Broadcasting, and DC Bureau. He provided updates regarding a meeting with the FCC and their licensing.
The agenda was for this webinar was, Navigating the New FCC License Condition and what it means for LPTV Licensee/Permittees
as well as avoiding the "FCC Death Penalty" and using Tolling and 312(g) waivers to preserve your unbuilt CP or Displaced Station.
---
Ashley Garcie from Fun Roads Media
October 6, 2021
Ashley Gracile is a broadcast television Executive Producer who's created & owns 17 TV series (over 1,740 episodes) seen in over 100 million homes. Ashley is also the Chairman and Founder of Fun Roads Media Inc an independent, privately held media company. The company's flagship property is the Fun Roads television network; the only broadcast TV platform which celebrates the leisure road travel lifestyle with a popular lineup of TV series and movies, including original shows. Fun Roads is streamed on multiple platforms and broadcast OTA and on cable 24 hours a day, 7 days a week into 44 million homes in 4 of the nation's top 6 TV markets and 6 of the nation's top 17 TV markets, along with 12 more top 50 markets. Over 42 million people can now watch Fun Roads. Fun Roads launched in April of 2019 in San Francisco. Go to www.funroads.tv to learn more..
---
John McCoskey & Mark O'Brien from SpectraRep
September 22, 2021
They shared with us about SpectraRep and what can be done with ATSC 3.0. John McCoskey, Chief Operating Officer, is a technology, operations and policy executive, with background spanning media & entertainment, broadcast, satellite, and Internet technologies. He is Chief Operating officer at SpectraRep. Previous roles include EVP & CTO at the Motion Picture Association (MPAA) where he led global technology policy and strategy; the first-ever CTO at the Public Broadcasting Service (PBS); VP, Products at Comcast; and SVP, Technology and CTO at Discovery Communications. Mr. McCoskey holds two MS degrees from Johns Hopkins and a BSEE from Bucknell. He is an inventor with 27 issued & 28 pending U.S. Patents. Mr. McCoskey and his PBS team received a Technology & Engineering Emmy® award in 2010 for pioneering work on digital television workflows. He is a SMPTE Fellow, IEEE Senior Member, and prior 2-term SMPTE Governor.

Mark O'Brien is President and CTO of SpectraRep where he developed datacasting tools that enable broadcast television signals to deliver encrypted and targetable computer data. Television stations nationwide are using these datacasting tools to improve access to education and public safety data where internet and other wireless networks are limited or not available. Mark has been working on this capability for more than 20 years and brings his background in satellite, digital television, IT systems, IP networking and software design to the new challenge of delivering Internet content to underserved communities. Mark has 42 years of broadcast industry experience including technology, management, operations, station ownership and consulting. He is well known within the broadcasting community as a thought leader and technology innovator.
---
Irwin Podhajser, Executive Vice President of Media & Network Partnerships at FreeCast
September 15, 2021
Irwin shared with us how LPTVs can make additional revenue with Select TV, and the upgrades the OTT platform is currently performing.
---
Fred Baumgartner, Director Next Gen TV Implementation at ONEMedia — Sinclair Broadcast Group
September 8, 2021
Fred discussed with us ATSC 3.0 EAS vs AWARN, what's the differences and do we have to look forward to in the near future.
---
Vernon Van Winkle, President/CEO of KPVM Television, Inc/ News 25
September 1, 2021
The renown ATBA LPTV Industry Association Wednesday Webinar kicked off the Fall Season with Vernon Van Winkle, Small Town News cast member and President/CEO of KPVM Television, inc/ News 25. Find out what celebrity life has been like in the world of "Small Town News" and the his journey through the LPTV world!
---
Michael Couzens Discusses the National Translator Association
May 5, 2021
With the return of live events and conventions, the National Translator Association will be one of the first industry events with its convention in Utah. Michael Couzens, NTA and ATBA Board Member tells us about the convention and the importance of membership in the organization – Visit the NTA site HERE
---
Meet Troy Miller, CEO of NRB
April 21, 2021
Troy Miller is the CEO of the National Religious Broadcasters and joined us to discuss the upcoming June convention in Dallas/Fort Worth and the role NRB plays in the broadcast space, and the advocacy for our freedoms. Even if you are not a "religious broadcaster," please watch to find out more about this organization the ATVBA aligns with in promoting the growth and strength of the LPTV and OTT industries. Visit the Convention page here
---
Heidi Steffen with TitanTV Inc discusses AntennaWeb.org
April 7, 2021
Steffen discussed how to help consumers find your channel with an antenna, not just for your ATSC 1.0 signal, but now for your ATSC 3.0 signal as well. AntennaWeb.org is a consumer website owned & operated by TitanTV, Inc in partnership with CTA and NAB, that allows consumers to enter in their home address to find out what channels they can get free over-the-air with an antenna. New features have been recently added to AntennaWeb, designed to take the guesswork out of choosing the correct outdoor antenna type for a consumer's location and viewing needs.
The first new feature is a free television listing built into AntennaWeb for the broadcast stations and channels that may be received at the consumer's location with an antenna.
The TV listing is created and ready for viewing after the consumer has entered their address/ZIP Code information into AntennaWeb. The schedule may be viewed by clicking any of the My Schedule links that appear in the menu bar, in the rotating information panels at the top of the main page, or on the Results page.
Customizable lineups for broadcast, cable, satellite, and streaming services are also still available for free from  TitanTV.
The second feature in this update to AntennaWeb introduces consumers to NEXTGEN TV, the next step in the evolution of television broadcasting. In the markets where one or more stations are broadcasting in the NEXTGEN TV standard, those stations' call signs have an -NG appended to them in AntennaWeb's listings guide to differentiate the NEXTGEN TV broadcast from the current standard.
---
David Neff, General Manager at Anywave Communication Technologies Inc.
March 24, 2021
Webinar Guest: David Neff has been a part of the broadcast and electronic media industry for over 40 years. He started his career as a TV station engineer at WTOV in Steubenville, OH, and then held design engineering and technical positions with Tektronix, Inc., Harris Corporation, and General Electric. He joined the small startup ITS Corporation as a Product Manager in 1986. He then helped to grow the company from an exciter and small transmitter company through various names and ownership groups (ITS, ADC-ITS, and Axcera), and into a major transmitter company with a broad line of transmitters at all power levels with worldwide sales. He served as president of Axcera for 11 years.
David earned a Bachelor of Science in Electrical Engineering Technology from Point Park University and a Master of Business Administration degree from Syracuse University. He has presented at many technology conferences in the US and worldwide. He holds one US patent. David and his wife Kathy live in suburban Pittsburgh, PA.
---
Christ James, General Manager at Watchmen Broadcasting
March 10, 2021
Webinar Guest: Chris James is a graduate of the Savannah College of Art and Design.  He graduated with a Bachelor Degree in Film and Video and a Minor in Sound Design.  Chris began working at Watchmen Broadcasting, a Christian TV Station as an editor and Producer/Director in 2002.  Since then he has worked at every position at Watchmen Broadcasting and is now the General Manager.  Chris has served on the NRB TV Committee for 2 terms.  Chris works as an engineer and helps Churches and TV Stations with their technology.  Chris is currently putting together a School of Broadcasting for Watchmen Broadcasting to help train up and coming producers, directors, editors, and reporters modern techniques and integrity for all forms of media.
---
Louis Libin with Sinclair Broadcast Group
February 24, 2021
Webinar Guest: Louis Libin
ATSC 3 is redefining television. In the near future, you will transition to ATSC 3. Then what? Libin will be discussing the flexibilities of the standard and the flexibilities of the coverage.
---
Brian Short with TV Masters
February 3, 2021
Webinar Guest: Brian Short, COO of Heartland Broadcasting, LLC-TV25, and CEO of TV Masters, LLC. is a broadcast entrepreneur and avid technology enthusiast. His love of tech extends to his personal as well as professional life. Mr. Short is an avid amateur radio operator-founding and leading a multitude of ham radio service organizations locally, and nationwide. Brian is also a private pilot, and loves to ski on water & snow.
---
John Wilhite, senior systems design engineer at Harmonic
October 14, 2020
Webinar Guest: John Wilhite, senior systems design engineer at Harmonic.
Wilhite has been involved with the ATSC for more than a decade. He's been heavily involved with the broadcast community since 1995 when he started his career with DiviCom (now Harmonic) as an engineer testing code and systems for deployments.
---
Gil Reynolds, VP, and Station Manager of Hometown TV, and Randy Smith, Owner of KAQC TV – Atlanta, Texas
September 30, 2020
Webinar Guest: Gil Reynolds, VP, and Station Manager of Hometown TV, and Randy Smith, Owner of KAQC TV – Atlanta, Texas.
Topics include Producing for FRIDAY NIGHT under the LIGHTS LIVE and also find out tips from Reynolds and Smith on football production.
---
Vince Graziano with Beyond Private Label
September 23, 2020
Webinar Guest: Vince Graziano with Beyond Private Label
We are always looking for more sources of revenue, and the digital frontier is one of those locations we need to be hunting.  This week's webinar will present a way that you can offer white labeled digital products to your sales arsenal without costing you a dime or adding to your staff!  We'll hear from Vince Graziano, Operations Manager at Beyond Private Label.  He will show us how to use websites and social media marketing as revenue generators for your station's business – and give you the ability to offer your customers some great products!
---
Warren Trumbly, ATBA Hall of Fame Recipient
September 16, 2020
Webinar Guest: Warren Trumbly, ATBA Hall of Fame Recipient
With over 50 years in broadcasting starting in Radio in 1967 weekends in Top 40 radio). His first job in TV was as an operator in 1974 at channel 19 in Modesto, CA (KLOC radio & TV) and learning engineering. He has worked for 2 transmitter companies (Townsend Associates & TTC) and 2 antenna companies (Jampro & Antenna Concepts). In 1976, he joined KOAT 7 (ABC) in Albuquerque, NM as a studio engineer. Since 1976, he has built several full power TV stations as chief engineer and GM in Albuquerque, Sacramento, San Jose, and Salinas-Monterey. Since 1990, he built and managed three full power stations in California while building his own group of LPTV Stations 5 in California and 2 in Arizona.
A former board member and past president of the Community Broadcasters Association, he is currently a TV Committee member of National Religious Broadcasters, and a member of the National Translator Association, Advanced Television Broadcasting Alliance Hall of Fame recipient and semi-retired.
---
Bryan Compton, Amerigy Energy
September 9, 2020
Webinar Guest: Bryan Compton
One of the largest business expenses is electricity and Bryan will give us some ideas on how to save money – even at home.
---
Gary Cocola, Cocola Broadcasting
August 26, 2020
Webinar Guest: Gary Cocola
Cocola is the owner of Cocola Broadcasting Companies, with headquarters in Fresno, California. He gained his first experience with the television business at the age of 17 while working for a local television station. He appeared as a panelist on a local program at KFRE-TV, Channel 12, in Fresno called "Open House" with Al Radka. His job was to judge new records for a program called "Traffic Pops." He then became a co-host of the television program "TV Record Hop," a local dance party show on the same station.
---
Josh Weiss, ARK Multicasting
August 19, 2020
Webinar Guest: Josh Weiss
Topics include: ATSC 3.0 Monetization video, offload for telcos, automotive software updates, caching and delivery backbone
---
Dan Viles with LPTV WYBN TV 14
August 12, 2020
Viles has been in the industry since 1991. Dan is the station manager for WYBN-TV14 in additon he has worked as a sales manager, account executive, a VP station manager, NTR director. Viles has also been the President of Cable Ad Net New York, Inc. since 2001.
---
Kory Hartman from TV 43 Wisconsin
July 29, 2020
Webinar Guest: Kory Hartman from TV 43 Wisconsin
Kory has been in broadcasting since the age of 15 and has worked as a music radio DJ, radio and TV engineer, and TV weathercaster. In addition to his radio and low-power TV station, Kory also runs SevereStudios, a company that streams live video of tornadoes and other severe weather. He, his wife Jamie, and 2 teenage sons live just north of Madison, WI.
---
Jason Fiore, Comark/Hitachi
July 15, 2020
Webinar Guest: Jason Fiore, International Sales and Business Development for Hitachi Kokusai Electric Comark LLC
---
Heidi Steffen from TitanTV Inc and Jay Funderlic from FYI Television, INC
July 8, 2020
Webinar Guest: Heidi Steffen from TitanTV Inc and Jay Funderlic from FYI Television, INC
---
Jamey Schmitz, President and CEO of WLMB Toledo and Radianttv.com
June 10, 2020
---
Robert Folliard, Senior Vice President — Government Relations & Distribution at Gray Television
June 3, 2020
Here are some of the FCC proceedings topics discussed in the webinar….
Is your station significantly viewed? (Deadline June 15, 2020)
Will the new DTS rules benefit or harm LPTV stations? (Deadline June 13, 2020)
ATSC 3.0 Rulemaking (FCC Open Meeting June 9)
---
Perry Priestley, COO/CSO of Broadcast Electronics/Elenos Group, and Karlo Maalouf, founder of Mr. Antenna and owner of Idaho TV 22 KRID
May 13, 2020
Topic: Creating New Opportunities and Revenues with NextGen TV
---
Brian Short of TV 25 in Kansas City and Irwin Podhajser of Select TV
May 6, 2020
Topic: The importance of over-the-top (OTT) channels in the LPTV industry
---
Kevin Fisher, from Smith and Fisher, LLC and Louis Libin from Sinclair Broadcasting Group
April 29, 2020
Topic: What Should LPTV Think of SFN/DTS?
---
Marge Johnson, Technical Support Analyst at Titan TV Inc.
April 22, 2020
Topic: PSIP data requirements for LPTV in 2021
---
Peter Tannenwald and Davina Sashkin, attorneys at Fletcher, Heald, and Hildreth in Washington, D.C.
April 15, 2020
Topics: The new FCC rulings and issues facing the LPTV and Translator Industry