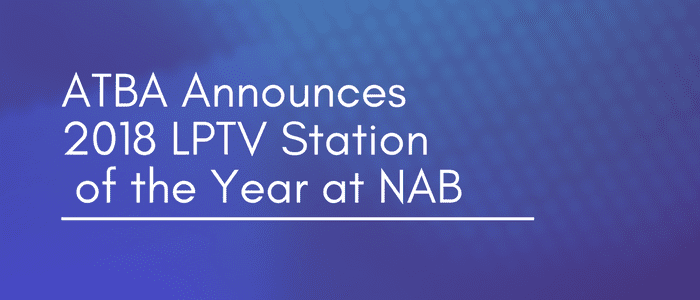 Advanced Television Broadcasting Alliance (ATBA) will present awards to broadcasters and station operators during an event supporting Low Power Television (LPTV) Monday evening at the NAB annual show in Las Vegas, Nevada, on Monday, April 9, 2018.
Taking home the award for Station of the Year is WMNN – MI News 26 based in Lake City, Michigan. The station won the award for showing exemplary efforts to modernize, grow and diversify their low power television station.
"We would like to recognize Eric Wotila, Jacob Owens, Wyatt VanDuinen, Morris Langworthy and Remington Hernandez for their passion to pour into LPTV in their area," said Lee Miller, ATBA Communications Director. "Their efforts have shown what LPTV can be and what is possible for the future of low power television."
WMNN will also receive awards for Best Promotional Campaign, Best Television Mixed Media Campaign and Best Television Public Service Announcement.
Other award winners include Cheyenne and Arapaho Television for Best Creative Television Programming for their animated children's program called Frybread Flats.
"This program is entertaining, uplifting, and educational," Miller said. "We are very proud to present this award to Randy Burleson, Darren Brown and Adam Youngbear for their unique program."
KCKS in Auburn, Kans, will receive the award for Best Local Television Commercial for Anytime Fitness.
"Their creative ad portrayed Santa going on a diet and working out in the gym," said Miller. "It was a great piece of storytelling from Brian Short and KCKS."
Best Television Talk show will be presented to theDove TV for Focus Today, a talk show covering politics as well as national and world events.
"Polina Leiser, Executive Producer, and host Perry Atkinson have maintained an informative and encouraging format to share perspectives on faith, politics, and events on national and world scales," Miller said.
IBN will receive the Best Television Special Program for their CrossTalk episode featuring John Augustine.
"Josh Weiss and Tim Jones created a compelling story which showcased a home for children of lepers in India," said Miller. "It was evident they worked diligently to create a human interest piece with dignity."
"We are incredibly grateful to these stations who submitted entries," Miller said. "In several categories, competition was heavy, which shows LPTV is still around, still growing, and working toward a brighter future."
For a complete listing of awards and submission guidelines, please click here.