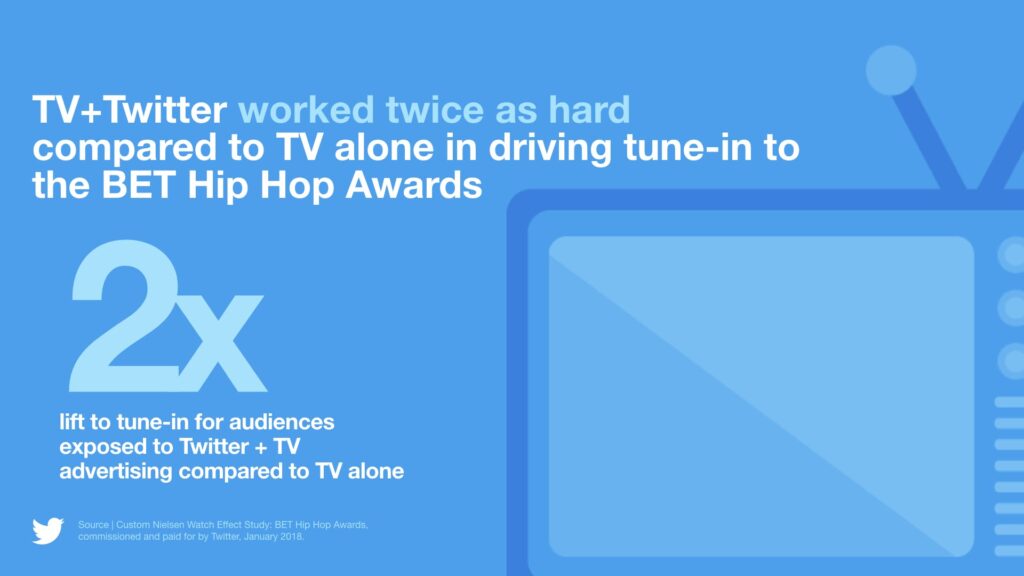 Many of us are tired of seeing the latest meme or your best friend from high school posting from another cruise, but social media is important to your station and programming. A recent Nielsen TV Watch Study draws a strong line to Twitter postings to TV watching.
Twitter says advertising on its social-media platform continues to push more viewing to traditional TV.
Mike Dupree, Senior Manager, Media & Entertainment Solutions at Twitter says, "Twitter and TV have always had a symbiotic and complementary relationship. However, until recently, we've not been able to prove Twitter ad efficacy in driving linear tune-in. Now we have that capability, further underscoring Twitter's commitment to proving ROI for our advertisers with trusted partners like Nielsen."
The new study shows that people exposed only to a Twitter ad campaign were 23% more likely to tune-in to TV. That's versus people in the control group who weren't exposed to ads at all. Nielsen measured the impact of two Twitter campaigns for a broadcast TV network's coverage of a weekly football game.
"We're excited to see Twitter using Nielsen's Watch Effect capability to showcase the value of the Twitter and TV experience. By bringing together data from our Digital Ad Ratings and National People Meter panel, we're able to quantify the effect of social advertising in driving TV viewership," said Eric Ferguson, VP, Media Analytics, Nielsen
Although this study was through paid campaigns, conclusions can also be made that TV engagement can be increased through organic means.
"Social media is a great way for LPTV Stations to connect with their audiences and to garner new viewers," according to Lee Miller, ATBA Executive Director and CEO of MSGPR, a media company. " Twitter  still provides one of the best social platforms to deliver your message, your programming and news directing the audience to tune in to your channel."
"Facebook, Instagram and LinkedIn are all places you and your station should be represented on a daily basis. The adage, out of sight out of mind holds true. Even a simple reminder to rescan your TV set on Facebook can bring more eyes to your channel. Be social!"