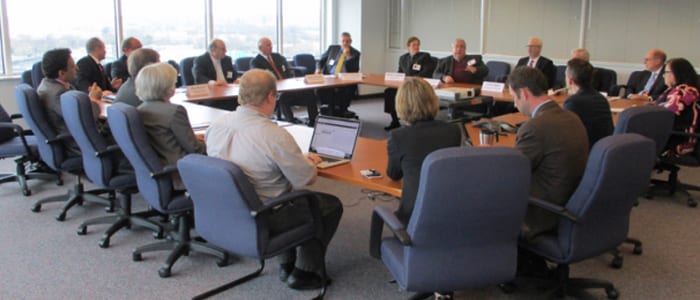 LPTV industry leaders, including Advanced Television Broadcasting Alliance (ATBA) Board Members, gathered on Tuesday, March 28, in Washington, D.C. for two landmark meetings in hopes of establishing a roadmap towards permanency for Low Power Television (LPTV) stations and translators as the spectrum auction closes.
The first meeting brought together LPTV and members of the Media Bureau as well as OET and Incentive Auction Task Force staff to discuss auction impacts across the broadcast industry and to release the repacking transition phase and PEA to those affected.
When the industry leaders joined FCC Chairman Pai for the second meeting, it marked the first time that an FCC Chair has met with LPTV leaders.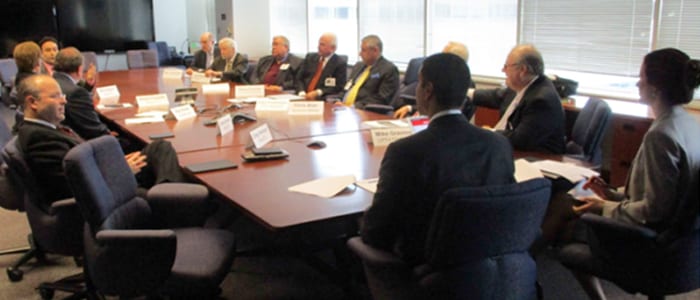 "It has been way more than a decade that the LPTV industry has had the opportunity to talk directly with an FCC Chairman," said Mike Gravino, LPTV Spectrum Rights Director who organized the meetings. "And this week owners and rep's from the major LPTV station groups met with new Chairman Ajit Pai to discuss the problems of the auction and repack, and the future possibilities of the NextGen broadcast system.
For most in the room, the meeting was a positive step in shedding light on the FCC's regulation process and willingness to work with LPTV for a viable future.
"I was inspired by Chairman Pai's willingness to meet with LPTV operators since he has been the only Chairman to do so," said Gary Cocola, owner of Cocola Broadcasting Industry, LLC and ATBA board member.
In the meeting, a request for permanency for LPTV stations and translators was made to protect these entities in the future.
"No LPTV or Translator that survives the VIA created displacement process should ever be forced to live through it again. LPTV broadcasters have faced numerous repacks, regulatory discrimination and financial disruptions over the years due to the unchecked desires of the major wireless operators. Permanency requires new regulations be adopted to provide stability to LPTV broadcasters and for licensees to secure the investments needed to be able to participate in the new world of ATSC3.0." (pg. 27).
The new ATSC 3.0 standard is a very good reason to move beyond the spectrum auction and look to the future.
"DTV America has 51 active stations and 348 free television channels with thousands more coming and we are just one LPTV group,"said Irwin Podhajser, ATBA Board member and DTV America Vice President. "LPTV has a bright future with thousands upon thousands of free channels being offered to the ever growing cord-cutters and cord-nevers and multiple more services as ATSC 3.0 becomes a reality. This only happens though if there is an FCC that is on LPTV's side to help as many LPTV stations survive the repack as possible and a clear path to primary status to those that do.
The meeting also brought LPTV concerns and issues to the forefront of the FCC, reminding the Commission just how many rely on low power stations.
"This was a very important meeting for LPTV," said Lee Miller, ATBA Communications Director. "In recent years, the LPTV industry has been been delegated to the back of the bus at the FCC. The original design of the LPTV was to be secondary ONLY to full power television – not a secondary service to other spectrum users. Millions of viewers watch and depend on these local broadcast stations and an opportunity for LPTV leaders to be heard before Chairman Pia is a step to saving an industry important to the fabric of our nation."