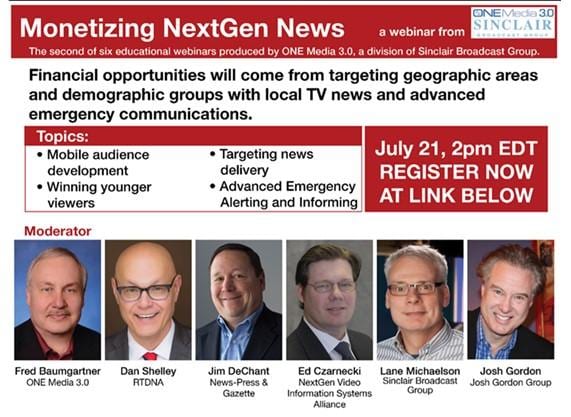 Second in a series of six webinars on ATSC 3.0 Monetization
The second webinar examines targeted content delivery for news and emergencies, and winning younger viewers.
The ATSC 3.0 standard enables the ability to send programming to select geographic areas and demographic groups. They will review how this ability can open financial opportunity.
Webinar speakers:
Moderator:
Fred Baumgartner, Director Next Gen TV Implementation at ONE Media 3.0 — Sinclair Broadcast Group
Speakers:
Ed Czarnecki, Chairman of the Board, NextGen Video Information Systems Alliance
Dan Shelley, Executive Director, RTDNA, (Radio Television Digital News Directors Association)
Jim DeChant, VP Technology, News Press & Gazette Broadcasting
Lane Michaelsen, Group News Director, Sinclair Broadcast Group
Josh Gordon, TV Industry Strategist, Josh Gordon GroupTime
Jul 21, 2020 02:00 PM in Eastern Time (US and Canada)