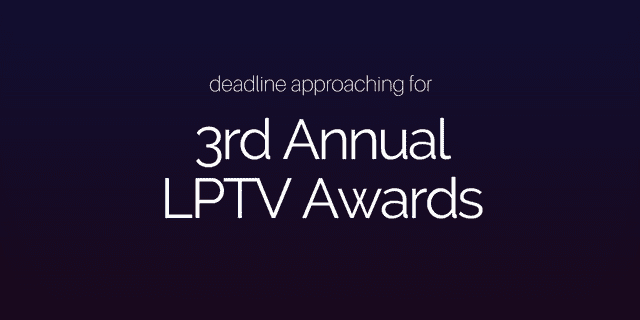 The deadline to submit entries for the 3rd Annual LPTV Awards during NAB 2017 is now just 26 days away. Take an opportunity now to shine the light on your work and the excellence in the LPTV Industry. The winners will be presented at the ATBA Reception at NAB on April 24, 2017.
Entries must have been produced between January 1 ,2016 and December 31, 2016 and aired on an LPTV Station. Categories for submission include Low Power Television Station of the Year, Best Television Talk Show, Best Television Special Program, Best Local Television Commercial, Best Television Public Service Announcement, Best Television Mixed Media Campaign, Best Creative Television Programming, and Best Promotional Television Campaign.
All entry material must be submitted by 5pm on Monday, March 27, 2017. Judges will include seasoned independent professionals in the industry. Click here for complete listings and to begin your submission. Submission Guidelines can be found by clicking here.