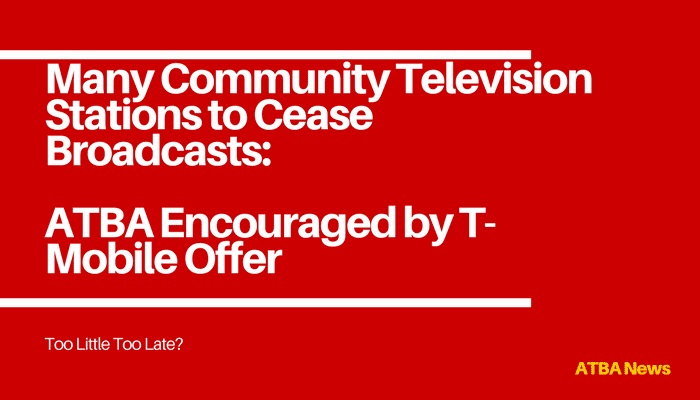 July 17, 2017 — The Advanced Television Broadcasting Alliance (ATBA) is pleased that T-Mobile recognizes the tremendous hardships that the incentive auction has imposed on low power television stations (LPTV) and translators in today's Ex Parte filing with the Federal Communications Commission (FCC.) LPTV and translator station serving hundreds of communities across the country have received letters from T-Mobile to cease operations within 120 days.
T-Mobile and others spent millions to lobby Congress to sell them prime spectrum under the guise of a "spectrum crunch," which was proven not to exist.  As a result of the auction, hundreds of LPTV and translators with specific, unique and local programming will go off the air permanently.
"Many LPTV and translators are owned by small businesses or families and simply cannot afford to continue to rebuild their facilities each time the federal government reallocates television spectrum and forces stations to fight for whatever spectrum may be left over," according to Robert Folliard, chairman of the ATBA, the LPTV and Translator industry organization. "We very much appreciate T-Mobile's offer to offset some of the costs that many LPTV and translators will incur if forced to build twice — first, in response to T-Mobile's letter providing the licensee 120 days to cease operating on its current channel and, second, if the station's temporary displacement channel is no longer available after the FCC processes all of the applications filed in the upcoming LPTV special displacement window."
ATBA is encouraging other wireless carriers who displace LPTV operations to make a similar commitment.
"Unfortunately, these efforts will not bring back the many LPTV and Translators that will not be able to find spectrum in the newly repacked television band. "says Lee Miller, ATBA Communications Director. "Also, many will not be able to afford the relocation costs in which the vast majority of will not be reimbursed by T-Mobile, any other carrier or the Federal Government."
ATBA notes that T-Mobile's offer will sunset in three years.  Therefore, it will be critical for the FCC to quickly process all applications filed in the special LPTV displacement window.  No LPTV or translator licensee should lose its opportunity to be reimbursed for its second-build costs because of FCC delays.
The Advanced Television Broadcasting Alliance is an industry organization comprised of over 2,000+ low power television broadcasters, translators, full power television broadcasters and allied industry organizations and companies.  The goal of the Alliance is to preserve and promote the efficient and effective use of all television broadcast spectrum, and stands ready to actively dialogue with T-Mobile on LPTV and Translator repacking and displacement process.
###