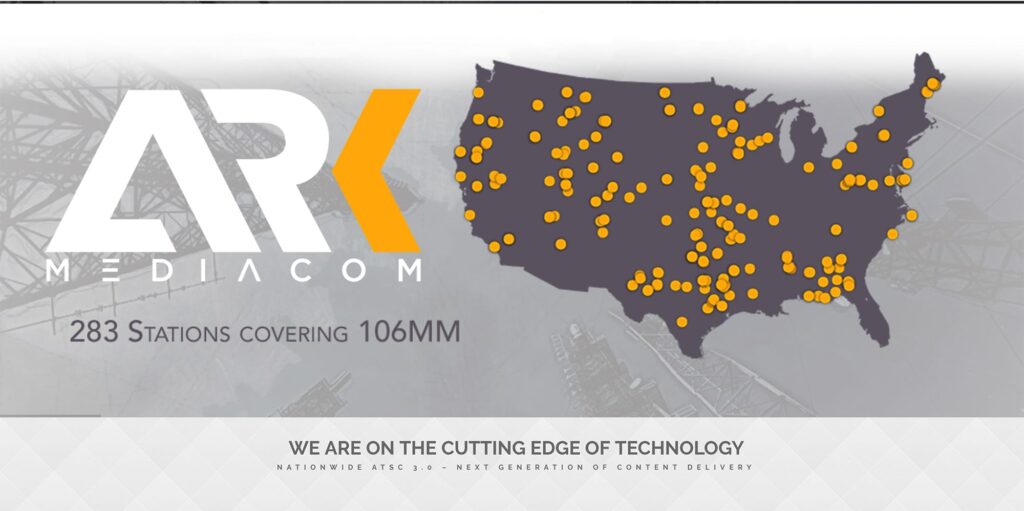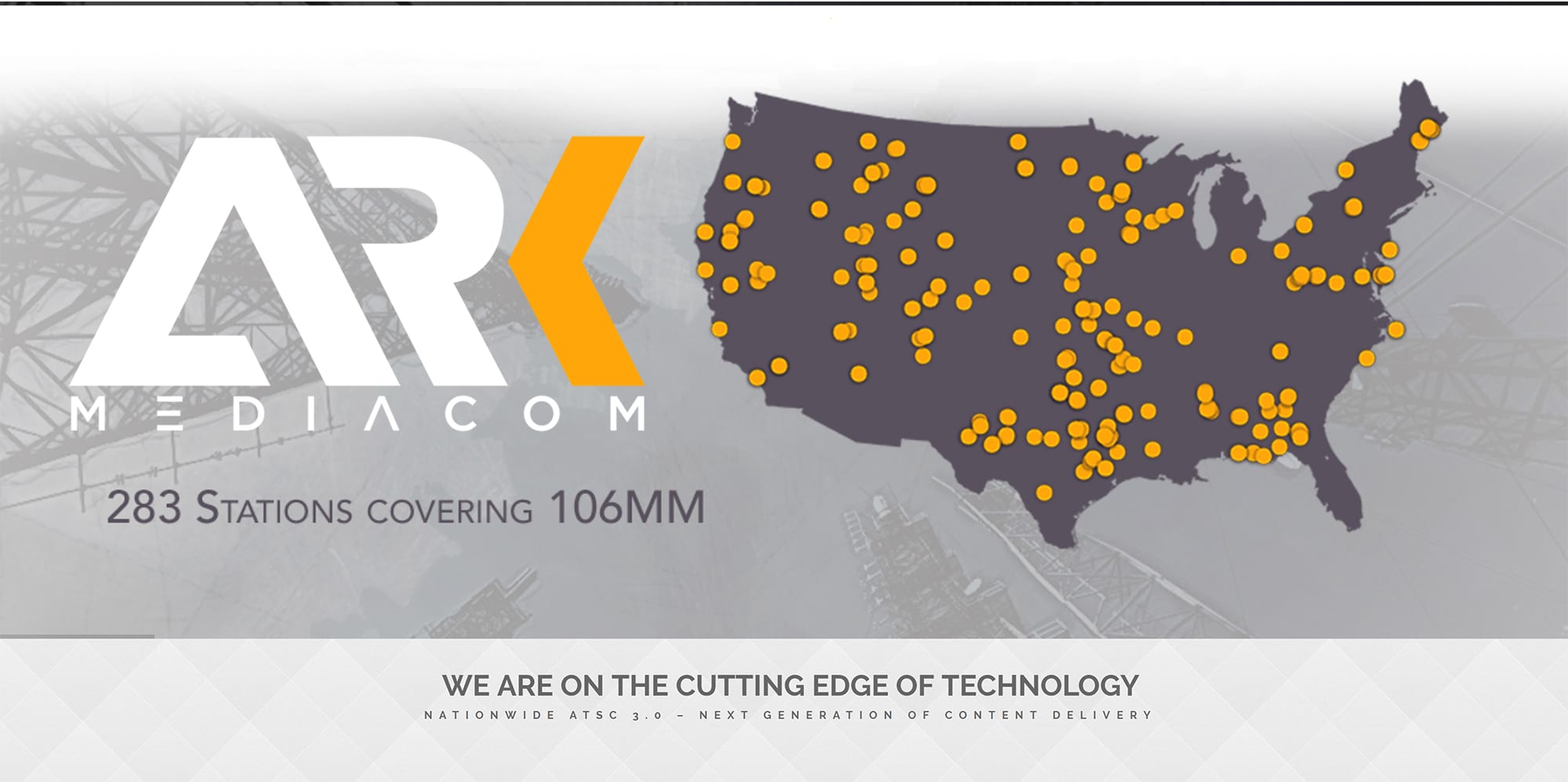 August 21, 2018 – ARK Mediacom (ARK) announces its formation and partnership with Edge Spectrum Inc. (ESI).  This new company will leverage the expansive spectrum footprint of ESI to deploy its next generation ATSC 3.0 standard based network.
ARK is leveraging the power of television broadcasting to add an IP multicast extension to the Internet. The architecture of the ARK network brings the one-to-millions efficiency of broadcasting to the traditional one-to-one unicast Internet. ARK will reduce the cost per GB delivery of Over-the-Top (OTT) video content, software downloads and streamed IP media by two-three orders of magnitude compared to existing Internet service providers. Media content creators and distributors will benefit from ARK's end-to-end direct delivery to the mobile and fixed devices of their audiences bypassing all the existing gatekeepers.
"We bring the future to you today," says Vern Fotheringham, ARK Mediacom CEO. "ARK Mediacom is transforming the broadcast industry with the creation of a nationwide IP multi-casting network that enables virtually unlimited OTT video and IP data delivery directly to consumers."
The ARK Mediacom architecture leverages the efficiencies of broadcasting with dramatic advances in capacity and cost reductions of digital storage. This will effectively lower costs for operators, consumers and solve future shortages of spectrum bandwidth.
"82% of American neighborhoods lack access to competitive high-speed broadband," says Caleb Weiss, ARK Mediacom President. "This lack of access is hindering OTT adoption and provides us a tremendous opportunity to bring our new technologies and nationwide TV station coverage as a disruptive innovation solution."
About ARK Mediacom, Inc.
ARK Mediacom is a broadcast company on the cutting edge of technology and the next generation of content delivery throughout the USA.
Bringing to the U.S. the first open standards based end-to-end nationwide wireless IP multicast network, ARK Mediacom, in simple terms, is the solution to the infirmities in the current internet access networks to scale efficiently and cost effectively to meet the burgeoning demand for OTT on-demand video consumption.  As demand for video content continues to increase, the existing unicast infrastructure becomes more and more taxed. ARK Mediacom is uniquely positioned as the solution by leveraging a broadcast architectural enhancement to the Internet.
About Edge Spectrum, Inc.
ESI has over 280 TV station licenses and construction permits that cover approximately one third of the U.S. population.  ESI is actively expanding coverage to create the largest independent next generation ATSC 3.0 hybrid broadcast-data delivery network providing an independent alternative network for broadcasters and broadband Internet content distributors seeking to rapidly reach the growing market for cross platform delivery of video and Internet content.
For further information visit www.ARKMediacom.tv.