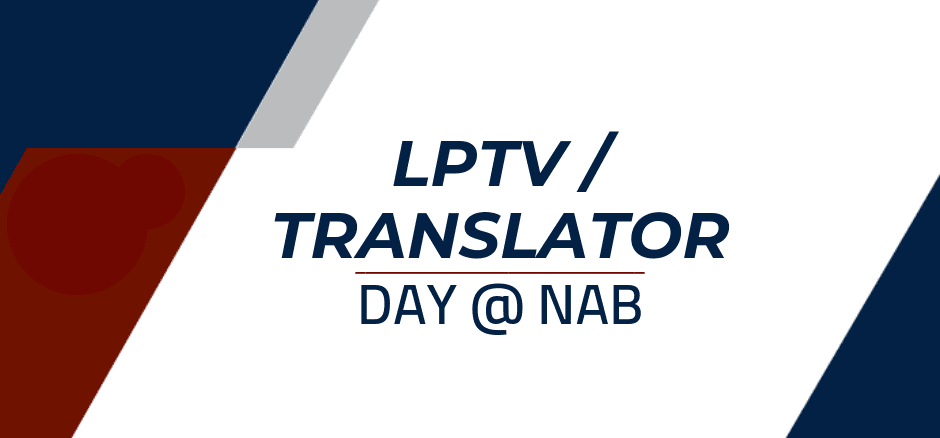 All sessions will be held in the ATBA Westgate Suites, Room Number to be announced on April 6. Reception will be held in the Westgate
Ballrooms D&E.
Sunday, April 7, 2019
9:00pm – ATBA Board of Directors – (By invitation only) Sponsored by Sinclair Broadcast Group – 
Monday, April 8, 2019
8:30am – Westgate ATBA Suite opens for the day. Admittance for the day is by business card and your NAB Badge of any level (including the free expo pass.).
9:00am-9:50am – The business of ATSC 3.0 – Moderators, Joshua Weiss, Ark Mediacom
10:00am-10:50am – The Technical of ATSC 3.0 – Moderators, Louis Libin, HC2; Vern Fotheringham,  V-SatCast
11:00am-noon – The Standard of ATSC 3.0 for LPTV – Moderator, Lee Miller, ATBA
LUNCH – Sandwich lunch in the ATBA Suite with sponsors and participants. 
1:00pm -1:50pm – Extending the Reach of LPTV Operators with Over-the-Top IP Distribution – Kumar Ramaswamy, iGocast
2:00pm-2:50pm – Expectations for the LPTV FCC Reimbursement Process – David Cole, Sam Hariton, Mike Lasky – Widelity  
3:00pm-3:50pm – Costs for an LPTV Station to Move to ATSC 3.0 Efficiency and Power Requirements – Perry Priestly – Anywave 
4:00pm-4:50pm – ATSC 3.0 MultiPLP explained, Applications and use cases for LPTV – Richard Lhermitte – Enensys
5:00pm-5:50pm – OTT Services in a Rural or Poorly Served Internet Area – Tee Thomas -Anywave
6:00pm – VIP Reception for ATBA Members and Guests Only, Westgate Ballrooms D&E
7:00pm – Reception Opens to All, Westgate Ballrooms D&E 
7:15pm – Awards Ceremony, Welcome and Door Prizes, Westgate Ballrooms D&E 
Tuesday, April 9, 2019 ATBA Suite 
9:00am-9:50am – News Roundtable – Eric Wotila – NewsNet
10:00am-10:50am – PSIP & Data in ATSC 3.0 World – Merge Johnson – Titan TV
11:00am – noon – Station Promotion – How is your Station Doing? Need Cable Carriage? Lee Miller – ATBA