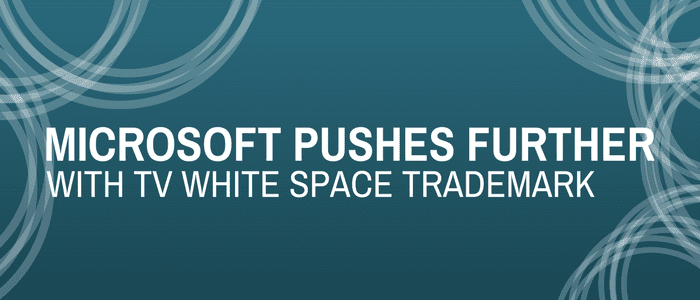 In a trademark filing last week, Microsoft continues to strengthen their TV white space initiative, a push that continues to threaten Low Power TV and Translator stations causing a potential loss of lifeline broadcast TV programming for millions of viewers. Microsoft has been issued the trademark, AIRBAND, that was dated January 16, 2018, and is a service related to their use of TV White Space technology that was announced in July 2017.
The trademark pertains to two uses in the white space field. First, for "Computer hardware, software and software applications to provide internet connectivity services to white space telecommunications channels, networks and databases" and second for "Providing business information and consulting in the field of white space telecommunications and internet connectivity; promoting public interest and awareness of white space telecommunications and internet connectivity." See filing here and here.
In July 2017, Microsoft's president and chief legal counsel Brad Smith said, "Our goal is not to enter the telecommunications business ourselves or even to profit directly from these projects. We will invest in the upfront capital projects needed to expand broadband coverage, seek a revenue share from operators to recoup our investment, and then use these revenue proceeds to invest in additional projects to expand coverage further."
Contrary to Microsoft's discussions with legislators of this being a win for the country, the proposed set aside of three channels in the television broadcast bands will severely limit the rebuild of many Low Power TV and Translator stations displaced in the recent FCC incentive spectrum auction. Microsoft claimed in their July presentation and white paper that they were doing all of this for no direct profit.
"Microsoft is looking for a free ride on channels they could have purchased, channels that T-Mobile spent over $8 billion to buy and channels that broadcasters have spent untold billions to develop and maintain," said Lee Miller, ATBA Communications Director. "If this was truly the case of philanthropic ideas in mind, Smith and Microsoft would partner with the newest FCC-approved ATSC 3.0 capacity of thousands of Full and Low Power TV stations and Translators across the country to deliver broadband and data technologies to connect rural and urban America."
"It's the height of arrogance for Microsoft — a $540 billion company — to demand free, unlicensed spectrum after refusing to bid on broadcast TV airwaves in the recent FCC incentive auction. Microsoft's white space device development has been a well-documented, unmitigated failure. Policymakers should not be misled by slick Microsoft promises that threaten millions of viewers with loss of lifeline broadcast TV programming," said NAB Executive Vice President of Communications Dennis Wharton in a July statement.
After years of development, the ATSC 3.0 standard is now a realization with the November 2017 approval from the FCC. Along with Ultra High Definition TV and immersive audio, the new standard allows for IP transport, robust mobile reception, advanced emergency alerting and much more.
The Advanced Television Broadcasting Alliance is an industry organization comprised of over 2,000+ low power television broadcasters, translators, full power television broadcasters and allied industry organizations and companies. The goal of the Alliance is to preserve and promote the efficient and effective use of all television broadcast spectrum, including the permanence of Low Power Television and Translators. Visit www.BroadcastingAlliance.org for more information and to join.