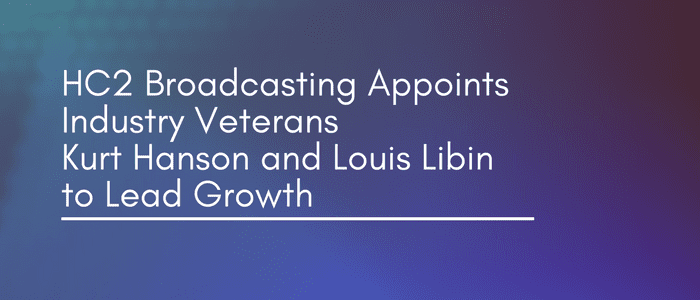 NEW YORK, March 13, 2018 (GLOBE NEWSWIRE) — HC2 Holdings, Inc. (HC2) (NYSE:HCHC), a diversified holding company, announced today that its subsidiary, HC2 Broadcasting Holdings Inc., (HC2 Broadcasting), has appointed industry veterans Kurt Hanson and Louis Libin to accelerate the growth of HC2 Broadcasting as a premier over-the-air (OTA) distribution platform.
Mr. Hanson, formerly Vice President, Engineering Services and Systems Support at ABC Television Network, will serve as Chief Technology Officer for HC2 Broadcasting. Mr. Libin, previously Senior Director of Advanced Technology at Sinclair Broadcast Group, will oversee revenue and growth opportunities as HC2 Broadcasting?s Managing Director of Strategy.
"I am delighted to welcome Kurt and Louis, two well-respected industry experts, both highly accomplished in helping grow broadcasting platforms," said Phil Falcone, HC2's Chairman, Chief Executive Officer and President. "Our vision is to build the country?s most comprehensive OTA distribution platform for content, and put in place a world-class management team to help that platform grow."
With 30 years of experience in broadcast engineering and technology, Mr. Hanson has held leadership roles at top television networks including ABC Television Network and WABC-TV, helping pioneer and broaden business partner efficiencies and workflows, perform strategic technology planning, and oversee facility operations. As Vice President, Engineering Services and Systems Support at ABC Television Network, he led the IT and Engineering teams in all aspects, and oversaw the transformation to an IP/digital infrastructure. Mr. Hanson received his B.S. in Electrical Engineering Technology from the University of Hartford. He is a member of the Institute of Electrical and Electronic Engineers, the Society of Broadcast Engineers and the Society of Motion Picture & Television Engineers.
Mr. Hanson said, "Having spent my entire career in OTA broadcasting, I am truly excited and energized by what HC2 is doing with their OTA vision and strategy. HC2 has built a collection of broadcast assets across the country that will be an outstanding platform to bring valuable content to viewers over-the-air. I look forward to working closely with Phil, Louis and the entire HC2 Broadcasting team to execute this vision."
Mr. Libin is well respected as a professional advisor, educator and speaker in the spectrum, television, telecom, software and communications industries. He is founder of Broad Comm, Inc., a technology consulting group specializing in cyber security, advanced television broadcast, interactive TV, intellectual property and wireless communications. He was appointed by the FCC to coordinate wireless use at the 2017 Presidential Inauguration. Mr. Libin is also the executive director of the Advanced Television Broadcasting Alliance, an association of low power television (LPTV) broadcasters, owners and operators, and allied industry organizations and companies. He studied physics at Yeshiva University, Engineering at Pratt Institute, received his B.S. in Electrical Engineering from California Miramar Universityand completed the Executive Management program of Optical Electronics and High Speed Videography at MIT. Mr. Libin is a Senior Member of the Institute of Electrical and Electronic Engineers, and is a member of the National Society of Professional Engineers. Mr. Libin was also a guest lecturer at Arizona State University in Phoenix on Media Entrepreneurship.
Mr. Libin said, "OTA broadcasting stands at the brink of a new era, and HC2 is well positioned to be a leader in this changing landscape. The next generation ATSC 3.0 standard creates new opportunities to distribute many kinds of content to an increasing number of viewers. I am excited to work with the HC2 Broadcasting team to capture these opportunities, build strategic relationships with industry partners, and thereby fuel growth."