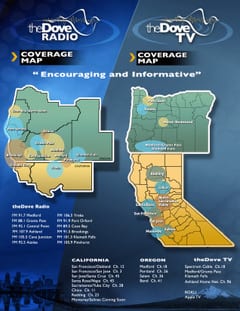 Medford, OR – theDove TV is excited to announce the expansion of its TV reach from Northern California down through the Sacramento Valley and over to San Francisco and Monterey. Beginning January 1, 2018, theDove TV can be seen on these stations:
San Francisco / Oakland – KTVJ-LD CH 12
Chico/Sacramento – KKPM-CD CH 28
Santa Rosa – KFTY-LD CH 45
Redding – KRDT-CD CH 23
Chico – KKRM-LD CH 11
Morgan Hill – KQRO-LD CH 45
San Francisco / San Jose – KURK-LD CH 3
"What this expansion means is that theDove is now virtually seen from Portland, OR to Monterey, CA, providing millions more people with the Gospel of Christ and bringing hope
and encouragement to a much wider audience," said Perry Atkinson, President and General Manager of theDove. "We are grateful to our loyal viewers and listeners for catching our vision
and helping us make the initial investment to make this move possible."
Since 2010 theDove TV has been committed to producing creative programming and covering important issues of the day, while advancing its Christian mission. theDove's locally produced
award-winning programs include Mornings on theDove, which is a unique blend of latest news, current issues, political headlines, and weather reports, as well as community events and ministry profiles. Focus Today with Perry Atkinson is a daily hour-long interview program, featuring guests on a variety of topics, ranging from counseling and politics to health and spiritual life.
theDove TV was the recipient of the National Religious Broadcasters' "LPTV Station of the Year" award in 2012, 2014, 2015, and 2016.
For more information about theDove TV visit www.thedove.us