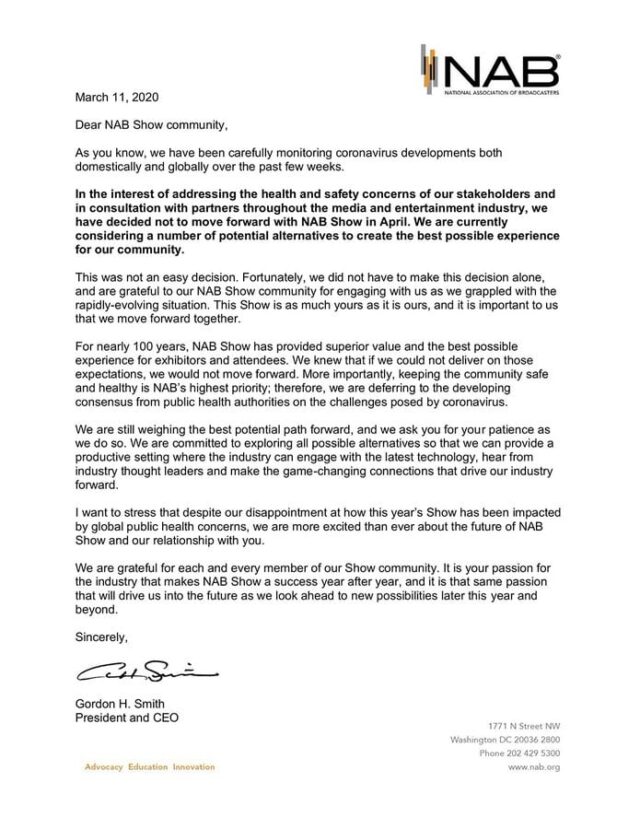 NAB has cancelled the April 2020 convention for health reasons, according to a letter that was sent out by the National Association of Broadcasters.
The NAB Show, set to take place April 19-22, 2020, has been cancelled due to concerns surrounding the Coronavirus.
"This was not an easy decision," the letter states. "Fortunately, we did not have to make this decision alone, and are grateful to our NAB Show community for engaging with us as we grappled with the rapidly-evolving situation."
The NAB Show has expressed its distress over cancelling the event, but wants the NAB Show community to know that they take any health concerns seriously.
"We had a good idea this would take place and have already begun working on a virtual LPTV Day to be held about the same time," According to Lee Miller, Executive Director of the Advanced Television Broadcasting Alliance. "Participants will be able to join us, virtually, to learn about some of the upcoming happenings in the LPTV industry."
We will keep you updated with more information in the next couple of days on plans from the ATBA.