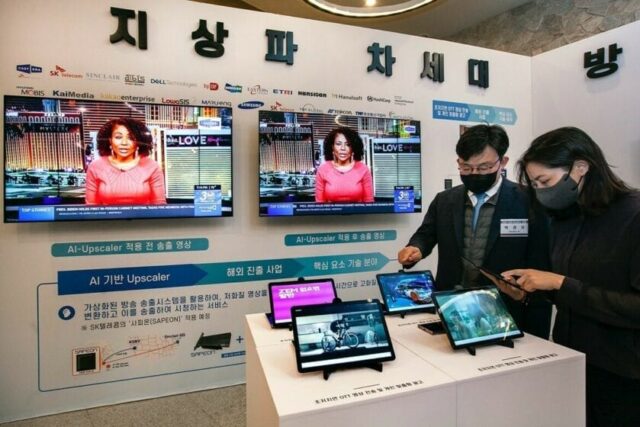 CAST.ERA uses 5G, AI and edge computing to create a faster, more efficient and economical broadcast model for delivering high-quality content to TVs and mobile devices
Demonstrated next-generation technology by transmitting full HD video from Las Vegas to South Korea's Jeju Island with ultra-low latency
JEJU ISLAND, South Korea, and ARLINGTON, Va., April 30, 2021 – CAST.ERA, a joint venture between SK Telecom and Sinclair Broadcast Group, will introduce breakthrough, next-generation broadcasting technology to the U.S. and Korea by the end of this year following successful trials in Korea's Jeju Island. The new technology will enable companies to broadcast ultra-HD (UHD) video with low-to-zero latency to next-generation TVs and mobile devices.
CAST.ERA's technology is a convergence of telecom's 5G standard and ATSC 3.0, the new standard set by the Advanced Television Systems Committee for UHD broadcasting. CAST.ERA, based in Arlington, Va., will provide broadcast solutions to U.S. and Korea distribution companies, including Sinclair's major U.S. television stations as well as Korea media giants Kai Media, ATBiS, DigiCAP and Hasigancom.
When paired with next-generation TVs and mobile devices, the CAST.ERA technology will make it possible for viewers to receive high-quality video, datacasting through OTA (over-to-air), and live TV broadcasts via OTT (over-the-top) platforms at home or on the go with minimal lag in transmission times. The technology will also enable broadcasters to dynamically insert personalized advertisements during commercial breaks for each viewer via the OTT broadcast service.
The new 5G-ATSC 3.0 technologies being launched include:
AI Upscaler – a technology designed to create high-quality broadcast video in real-time by converting and upgrading the broadcast resolution, frame frequency, color gamut, and format through the use of an artificial intelligence learning engine's operational management.
Virtualized Broadcasting Platform – a new technology utilizing cloud and mobile edge computing that successfully operates and remotely controls the transmission system of broadcast stations from a centralized location. Currently, broadcast companies must build dedicated transmission equipment that is manually operated at each local station. This new platform will provide more efficient and economical operations.
Zero-Latency OTT – a technology that reduces the delay time for OTT video streaming to a television or mobile device from nine seconds to zero. It can also dynamically insert personalized advertisements for each OTT user during commercial breaks.
Datacasting – the introduction of ATSC 3.0 and its robust propagation characteristics will provide this capability, making it possible to distribute large amounts of data via TV broadcast signals.
"We plan to introduce the cloud-based, AI-driven next-generation TV broadcasting solutions into the U.S. market this year," said Kevin Gage, CAST.ERA's Chief Operating Officer. "These solutions will help accelerate U.S. broadcasters' deployment of next-generation TV broadcasting services into the market."
Launched in early 2020, CAST.ERA combines SK Telecom's telecommunication technologies with Sinclair's broadcasting infrastructure and engineering expertise to bring to market all the new capabilities that ATSC 3.0 provides. SK Telecom is Korea's largest mobile telecommunications provider and launched the world's first 5G smartphone service. Sinclair is one of the largest U.S. television broadcasters and a long-time proponent of ATSC 3.0
"Bringing together the technologies and expertise that these two companies possess will help unlock the huge potential that ATSC 3.0 has for delivering IP content efficiently over large geographic areas covered by our TV signal," said Del Parks, Sinclair's Chief Technology Officer. "These technologies are a game changer. Our new abilities to provide improved viewer experience and access to new business models, like data delivery as a service (Ddaas), is one of the most exciting things to happen to our business since HDTV."
The companies established a 5G-ATSC 3.0 testbed at Jeju Technopark in Korea, where the trials were successfully conducted to prove that advanced high-quality broadcasting services were possible. The demonstration began with a transmission from Las Vegas to Jeju Island, where CAST.ERA successfully completed the trials with the Ministry of Science and ICT, Korea Communications Commission (KCC), Korea Radio Promotion Association (RAPA), Electronics and Telecommunications Research Institute (ETRI), Jeju Special Self-Governing Province, Korean broadcasters, and select partner companies.
Another significant event was the demonstration by CAST.ERA with Doosan and MBC of a highly accurate location service that carries GPS position correction data (MBC RTK) on the ATSC 3.0 broadcast frequency and transmits it to a Doosan hydrogen fuel cell drone. The distance recognition of a drone based on today's GPS location data has an error range of 1 to 2 meters. But through the data correction, it can be reduced to 10 centimeters. This location augmentation technology offers high accuracy and availability in the Korean and U.S. markets, where major ICT industries such as unmanned delivery and smart agriculture are emerging.
"5G and artificial intelligence (AI) technologies bring significant change and opportunity for the future of the global media industry," said Yoon Kim, Chief Technology Officer at SK Telecom. "The joining of SK Telecom's telecommunications technology and Sinclair's service leadership will continue to position CAST.ERA as a leader in the global media technology market."
About CAST.ERA
CAST.ERA, is a joint venture of SK Telecom and Sinclair Broadcast Group located in Arlington, Virginia. It is focused on cloud infrastructure for broadcasting, ultra-low latency over-the-top (OTT) broadcasting, targeted advertising and also advanced emergency alerting and other data transmission capabilities. The JV is focused on achieving synergies by combining SK Telecom's mobile and Internet communication technologies and Sinclair's broadcasting infrastructure.
About SK Telecom
SK Telecom (NYSE:SKM) is Korea's leading ICT company, driving innovations in the areas of mobile communications, media, security, commerce and mobility. Armed with cutting-edge, ICT including AI and 5G, the company is ushering in a new level of convergence to deliver unprecedented value to customers. As the global 5G pioneer, SKT is committed to realizing the full potential of 5G through ground-breaking services that can improve people's lives, transform businesses, and lead to a better society. SKT boasts unrivaled leadership in the Korean mobile market with over 30 million subscribers, which account for nearly 50 percent of the market. The company now has 49 ICT subsidiaries and annual revenues of around KRW 18.6 trillion. For more information, please contact skt_press@sk.com or visit our LinkedIn page www.linkedin.com/company/sk-telecom.
About Sinclair Broadcast Group
Sinclair is a diversified media company and leading provider of local sports and news. The Company owns and/or operates 21 regional sports network brands; owns, operates and/or provides services to 186 television stations in 87 markets; is a leading local news provider in the country; owns multiple national networks; and has TV stations affiliated with all the major broadcast networks. Sinclair's content is delivered via multiple platforms, including over-the-air, multi-channel video program distributors, and digital platforms. The Company regularly uses its website as a key source of Company information, which can be accessed at www.sbgi.net.