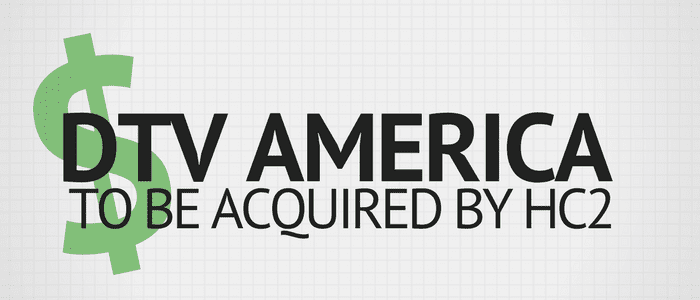 DTV America announced recently that it has entered into a series of transactions to sell the majority of its common stock to HC2, Holdings Inc. and is awaiting FCC approval on the roughly $13.2 million deal.
HC2 Holdings, Inc., a diversified holding company, has a wide array of segments that include Construction, Marine Services, Energy, Telecommunications, Life Sciences, Insurance and Other. HC2's largest operating subsidiaries include DBM Global Inc., a family of companies providing fully integrated structural and steel construction services, and Global Marine Systems Limited, a leading provider of engineering and underwater services on submarine cables, according to their website.
In a statement, Philip Falcone, HC2's Chairman, President and Chief Executive Officer called the pending majority acquisition a "meaningful addition" to the wide array of holdings within HC2 Holdings, Inc. that include Construction, Marine Services, Energy, Telecommunications, Life Sciences, and Insurance.
"DTVA is the largest broadcast distribution platform in the U.S., with valuable assets and substantial and growing market share among television households located in important geographies, and we believe is poised to capitalize on a number of compelling opportunities," he said.
DTV America currently operates as an aggregate for low power television, owning and operating 52 LPTV stations in more than 40 U.S. cities. The Internet Protocol-only distribution platform includes carriage of broadcast networks like QVC, Accuweather, American Sports Network (Sinclair), GetTV (Sony), MyNet (Fox), Telemundo (NBC), CoziTV (NBC), NewsMax, Azteca, Estrella TV and Cheddar. DTV America, which keeps a high priority on using innovative technologies, is the only broadcast service that uses IP to deliver the content directly to consumers' homes.